Greetings Students from your instructor, Laura Berlage!
This section of my studio website is all about celebrating your work and helping connect you with learning opportunities and resources. I hope you find these resources helpful!  If you have any questions, please use the Contact the Artist page to reach out.  If you are looking for video tutorials for your project or class, you'll find them in the tutorials section.
What you can explore in the Student Corner:
Learn about my teaching style and philosophy here.
Find supplies and materials, learn about the farm and Fiber Loft that makes Erindale Tapestry Studio teaching outreach possible, and more here.
Discover what's happening when and where, view all the upcoming classes, and find resources on how to register here.
View present and past newsletters from my studio and sign up to receive email news about upcoming classes, new project kits, and more here.
Peruse a gallery of works by my students in a variety of mediums and submit your image(s) to share.  I love see what students create, whether from a class, a kit, or materials from the farm or their own stash!  View the gallery here.
I know that you have questions!  Find some of the top questions and ways to reach out if you don't see yours there.  I'll update this page as new questions arise.  View the FAQs here.
Reviews:  What Students Say about My Classes
"Loved the class!  Keep adding more online classes.  "~D. R., North House Student
"I was very impresses with Laura's Zoom abilities. 2 cameras, screen sharing, etc.  So well done, I don't have any suggestions. I am looking forward to my next two classes with North House and Laura, later this month!"~Nancy, North House Student
"This was a fabulous course. It was relaxing and extremely informative. Laura was great, and she included everyone in the activities."~North House Zoom Student
"The loon kit is Wonderful! Simply wonderful!!"~Clifton S., Etsy review
"Laura's kits and online tutorials are the BEST! As a life-long creator of all things fiber – weaving, spinning, knitting and now felting, I have had many experiences with poorly written patterns, instructions, sub-par materials, etc. But, I can happily say that Laura's supplies, and especially the online tutorials are A-one wonderful!! I will be following her creations and ordering more supplies in the future. Highly recommend!"~G.G, Etsy review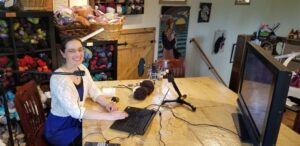 Leave a Review or Suggestion
Want to share your experience? Have an idea for a future project, kit, or class? I'd love to hear from you.
Copyright secured by Digiprove © 2020-2022