Welcome Dog Lovers!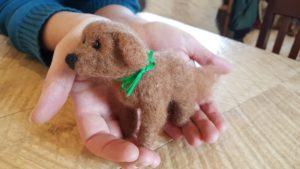 From the fluffiest Great Pyrenees to the littlest Scottie and all manner of breeds in-between, I've delighted in needle felting miniature versions of beloved dogs.  Made with wool from our farm's flock of sheep, they are created without the use of wire armature so are soft and hugable.  I take great care to bring out the distinctive features of your dog as well as its cuteness for that "awwww" moment when you first have the chance to hold it in your hands.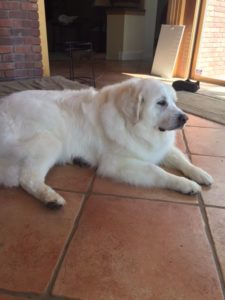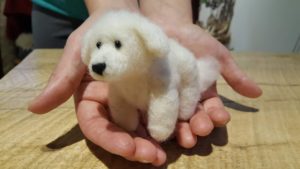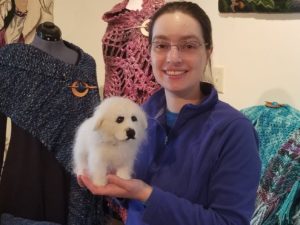 Presently, I make doggie pet portraits in three sizes.  For any size, please send me pictures of your pet from multiple angles, so I can see that lovable face as well as the tail.  If you already know what you'd like, you can start shopping.  If the details is what you're after, read on for project sizes and prices:
Ornament-Sized Mini Dogs
Love the idea of a mini version of your dog?  Want to add a beloved pet to the Christmas tree or your office?  This one is a great personal treasure or gift.  They fit in your hand (about 3 inches tall) and can be made in all-wool ($45) or with real fur on the outside ($55) and are more stylized than the larger pet portrait options.  If you want to the fur option, please send fluffy undercoat, which felts the best.
Link to order a mini-dog with fur
While this project takes less time to make than the larger portrait, I receive many more orders for this size and may have a list going at present.  As we discuss your order, I can give you a better sense of timing, and you can let me know if you have a special deadline for receiving your dog.  If you choose the with-fur option, any unused fur will be returned to you with the finished pet portrait.
Here are some pictures of dogs and their ornament version I created.
Labradoodle
Australian Shepherd
Beagle
White Shepherd
Corgi
Miniature versions of our family's dogs who have passed on.  A Bichon, a Cockapoo, and a Lab-Collie mix.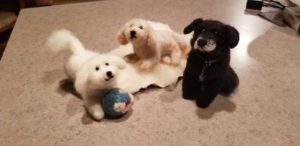 Medium-Sized Felted Dogs
Perfect for the bookshelf or office, this pet portrait sits approximately 5 inches tall and allows for more detail unique to your pet to shine through as compared with the ornament-sized offering.  The red wool scarf is also specially charming.  Please allow a little more time for the creation of this size than the ornament project.  All-wool medium-sized dogs $100 (if you want one with the addition of real fur, let's chat!).
Medium-Sized Felted Dog with Fur
Below are some examples of this size commissioned projects.
Argus, the Border Terrier
Nina, the Norwegian Elkhound
Larger Pet Portrait
Ready for the deluxe version?  This collector's grade option stands about 8 inches tall and 13 inches long.  The pet portrait is the most lifelike, built with wool and finished with real fur from your pet.  So soft!  The doll eyes add a sense of realism that makes the piece look like a puppy version of your dog, ready to wag its tail.  This size costs $475 and takes at least a week to complete.  As we discuss your project, I can give you a better time estimate based on current order backlog.  Here are some images of the larger sized pet portrait in production.
Link to order larger pet portrait
This is Maggie the Great Pyrenees.  I started with her pictures and a gallon zip-loc bag of brushed fur.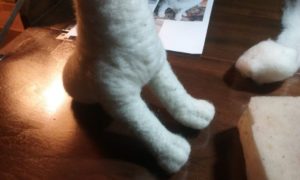 First, I built the body, neck, and front legs and feet.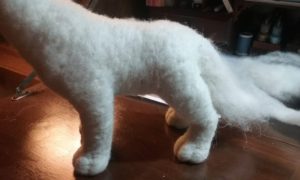 Second came the back legs and tail.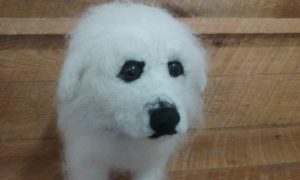 Then the head, ears, detailing of the face, and adding of the fur.  Maggie also wears a lovely blue ribbon around her neck–so sweet!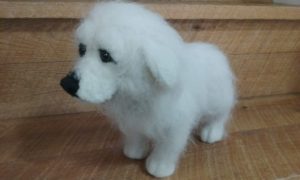 Felted Maggie in her forever home!  Real Maggie wanted to smell her all over and lick her–"Are you a puppy?"  So sweet!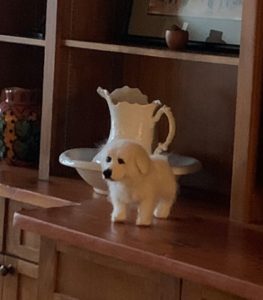 The best type of dog fur for felting is the fluffy undercoat.  Wiry outer coat will not always hold.  My aim with this project is to create a dog that can be gently petted, and the fur will stay attached (some shedding at first may happen…just like with the real dog).  Any unused fur will be returned to you with the finished pet portrait.
Interested to start a conversation about your personal pet portrait project?  Please Contact Me to proceed.  I'm happy to answer questions specific for your pet's mini wool version.  I hope your pet's miniature will bring you much joy and fond memories!  ~Laura
Customer Reviews
What folks are saying about their felted dogs:
"The Bonnie's are awesome. She [the dog] had her nose in the bag and is totally obsessed. So will need to keep them stashed away for now." ~Terri
"Blaze came and we love her! Thanks so much!"  ~Justine
"WOW!!  That is amazing!!  YOU are amazing.  You really captured one of her faces (she's very expressive.)  Thank you!" ~Jan