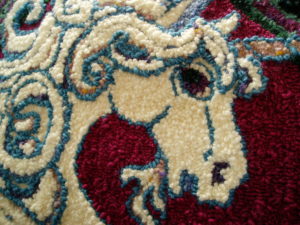 Enjoying what you see from the studio?  I would be happy to make something special just for you.  Woven and punch needle tapestries take considerable time to create, and this page is dedicated to breaking that process down into steps as you consider the piece you would like me to make for you.  Here is how the process works:
Step 1:  Your Vision
Think about what you would like for me to make special just for you.  The more accurately you can verbalize your vision for a custom project, the better I will be able to bring that vision into form.  Size (scale), colors, theme, purpose–all of these are helpful.  Some clients have sent me pictures of the room where the art will be hung, which gives me a great sense of their taste and what would liven the space.  If the piece is intended to go with something else (such as a costume addition to something you already have), clue me in on these details as well.
Step 2:  Choose a Medium
Once you have your vision for the project, let's talk.  Choosing a medium for expressing your idea is critical not only in relation to the the final product but also the time-frame necessary for completion.  For instance, a 30×45 inch punch needle tapestry might take 4-6 months to complete (depending on complexity), while the same design as a woven tapestry could be a 2-3 year project.
Step 3:  The Design
Now it's time to design your piece.  Depending on the scale of your project, there may be a non-refundable design/drafting fee.  We need to both agree on the design before production moves forward.  Designs and colors are often difficult to communicate without visual aid–we both need to see what we're aiming at.  While revisions to the design may be necessary, excessive revisions are frustrating not only to the designer but also to you and can often pull the life out of the piece.  This is where a clear vision and trust in the artist are key.  I do all my own design work by hand on paper (I know, I'm old school that way), and I am happy to share this with you in person or through photographs during this process.
Step 4:  Creation and Progress
Once we have agreed on the design, it's time to start production.  For some types of work (especially tapestries), you may be asked to pay half of the final price at this point.  This secures the materials for the piece as well as the labor investment in making your idea manifest.  I will update you with photos and stories as the work progresses.  For many in the commission process, this is the most exciting because they get to glimpse the artist at work and watch the design come to life.  You are welcome to check in at any time during this process and ask questions along the way.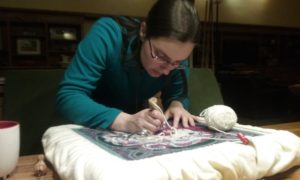 Step 5:  Fruition
Completion time!  With a final payment, your original art piece is ready to take home.  While I recommend personal pick-up (we can have some unveiling fun and I get it meet you in person if I haven't already), shipping options are available.  I always love to receive pictures of finished commissions in their new homes.  All tapestries come with care instructions and an authentication notice.  Work from Erindale Tapestry Studio is meant to last for generations, and I hope that you and your family enjoy your new piece for years to come.
Interested in a commission from my studio?  I'm happy to talk with you about a project you have in mind.  Feel free to spend some time on the blog and the gallery pages to gain a sense of my work, then send me a note via the contact page.  Thank you!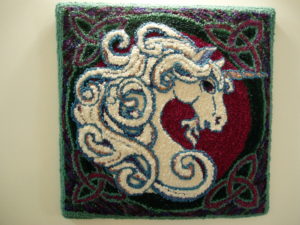 Interested in an example of how this process works?  Here are links to connect you with the story of the punch needle tapestry commission Hummingbird Haven, from start to finish.
Hummingbird Haven Commission is Launched
And here we are at the unveiling of the finished piece!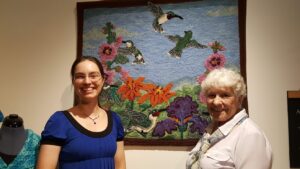 And here is the piece in its new home, followed by notes from Carole.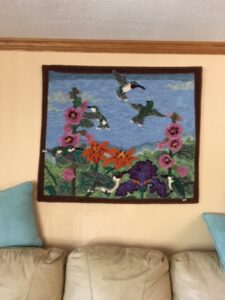 "Hi Laura.  I just wanted to send you some fuller pictures of the tapestry in my room.  As you can see, it fits perfectly and I'm so pleased.  I've had so many compliments.  As I look at it each day, I see more and more of the details you put into it.  As I've said before, you did a beautiful job, and I appreciate all the work and perfection you put into it.  Blessings…" C.J.