Meet Laura Berlage of Erindale Tapestry Studio
My Passion is Liberating the Creative Soul
As a contemporary Renaissance woman, this expresses through many methods and mediums, like the facets of a jewel.  There is no end to the magic of creating with our hands, and the time-honored realm of fiber arts feels especially magical to me as an artist.  Whether it is transforming wool roving from our farm's sheep into adorable felted creatures or turning colorful yarns into intricate tapestries, the magic continually renews in my own practice and through teaching others.
Erindale Tapestry Studio is grounded on my family's century farm in northern Wisconsin—tucked within the boundaries of the Chequamegon National Forest.  My home studio is a 16-foot diameter yurt nestled on the farm, looking out over the gardens and orchards.  But as many artists know, the world is really your studio, and projects come with me wherever I go—whether it's a cabled crochet piece in my shoulder bag, a sketchbook under my arm, or my latest writing journal on the side table.  My family is amazingly patient as projects tend to take over the house as well!  Creating is a deep part of my life, and I cannot imagine feeling fully supported to make ideas manifest without piles of yarn and closets full of fabric.  The stash is, after all, part and parcel to the process.
With 30 looms plus a number of frames, hooks, and other hand tools, the possibilities for expressions in fibers are nearly endless.  I began the journey at least by age eight, when my mother taught me how to use a crochet hook to make blankets for my favorite stuffed animals.  At 13, I began training in Navajo tapestry weaving with master weaver Fran Potter, which is about the same time I began earnestly working in costumery.  In 2011, I completed my Masters of Fine Arts in Interdisciplinary Arts at Goddard College, interweaving my love of narrative with my fiber arts and music practices.
Currently, my focus has shifted to being a teaching artist, infusing hands-on learning with stories, backstories, history, culture, meaning-making, context, self-expression.  The links at the bottom of this page are a welcoming way to deep-dive into my teaching practice and pedagogy.  Unlocking the creativity of others has been an amazing journey that continues to inform and uplift my own creativity.  We truly do thrive best when we all thrive together.
I hope that you will come to feel a sense of creativity's magic as well, whether through this site, my finished pieces, or learning opportunities.  Every element is interwoven with compassion for details and deep questions of meaning making and the overlay of form and narrative.  My hope is that you too will be inspired to engage in the journey of liberating the creative soul.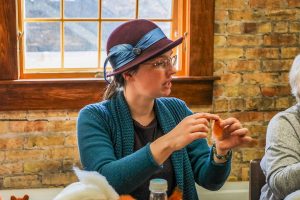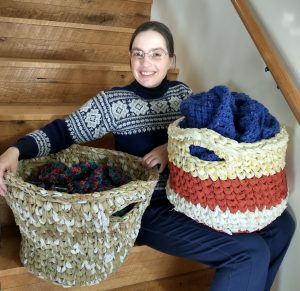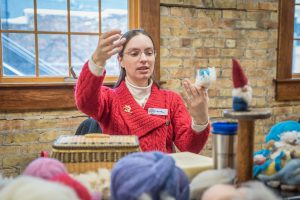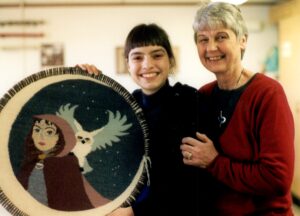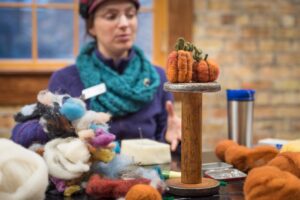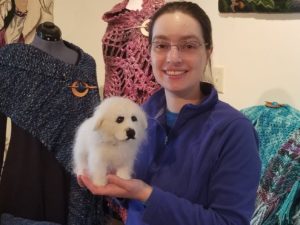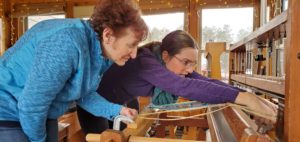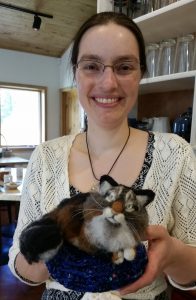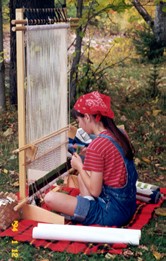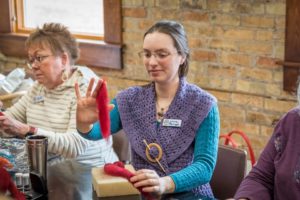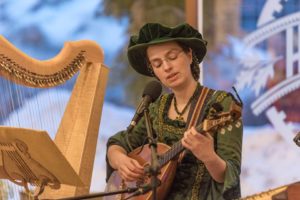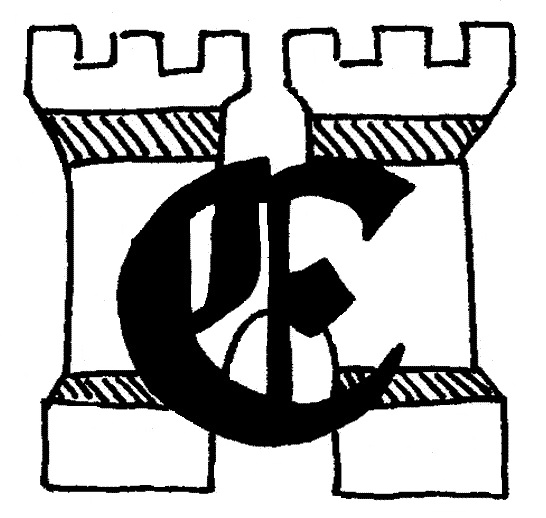 Erindale Tapestry Studio's name was inspired by the plethora of historical fiction creative writing that infused much of my undergraduate experience with research and desk-side adventure.  In these stories, which were set in late medieval Europe, the name of the home castle of my imagination was Erindale.  It is customary for tapestry weavers to create their own studio "weaver's mark" and it is also historically customary for such marks to include castle imagery.
Inspired by the castle in my novellas, Erindale joined my studio practice's name and weaver's mark as well.  The creative name stuck, and that youthful inspriation has carried forward.  As artists, we all know the importance of tending to our inner child (our creative self), and keeping the name honors that critical work as well.
Academic Credentials:
MFA in Interdisciplinary Arts, Goddard College (2011)
BA in Creative Writing and Performing Arts, Vermont College of Union Institute and University (2008).
Mentorships:
Jane Adams, Norwegian Bead Embroidery (2023)
Laura Demuth, Norwegian Pickup Bandweaving (2002)
Sirella Ford, Anishinaabe-Style Bead Embroidery and Loomwork (2002)
Andrea Myklebust, Contemporary Tapestry Weaving (2021)
Marcie McIntire, Anaishinaabe-Style Bead Embroidery (2021 and 2023)
Emily Moe, Moe Sew Co. Millinery (2018)
Amy Oxford, Oxford School of Punch Rug Hooking (2015)
Fran Potter, Traditional Navajo Weaving (1999-2005)
Madeline Sattler, Fundamentals of Art (1996-2002)
Exhibits:
"Embellishment" Vesterheim Norwegian American Museum, Decorah Iowa (July 2023-Jan2024)
"National Norwegian-American Folk Art Exhibition," Vesterheim, Decorah, Iowa (July 2022)
"RAV'N Annual Upper St. Croix Art Exhibition," Solon Springs, WI (July 2022)
"Socially Distanced, Creatively Connected," Vesterheim Norwegian-American Museum, Iowa (July 2021-Jan 2022)
"Punch Needle Contemporary Artists," Sauder Village, Amy Oxford curator, Ohio (Aug 2021)
Lectures:
"Dressing the Wise and Foolish Virgins:  What Tapestry Can Teach Us About Women, Dress, and Culture in 16th and 17th Century Norway."  Vesterheim Folk Arts School.  July 15, 2023.
Publications:
Vesterheim Rosemalling Letter
"A Fiber Journey into Rosemaling," 2021, Vol. 53 No. 3, Pgs. 115-8
American Tapestry Alliance, www.americantapestryalliance.org 
Fine Art Tapestry, "Weave Me a Different Story:  Alternative Narrative Meets Tapestry."
Triannual Review of Tapestry Art Today, Summer 2020, Vol. 46 No. 2, Pgs. 7-8
American Tapestry Alliance, www.americantapestryalliance.org 
Origin Stories, "Weave Me a Different Story:  Alternative Narrative Meets Tapestry."
Quarterly Review, Winter 2018, Vol. 44 No. 4, Pgs. 12-13
Sawyer Co. Gazette, Sawyer Co. Record, Spooner Advocate, Ashland Daily Press, Bayfield Co. Journal, The Country Today, and Others. Winter, Hayward, Spooner, Ashland, and state-wide in WI
Weekly "Down on the Farm" columnist on homesteading, local foods, and community awareness topics, June 2012 to present
Tapestry Weaving Demonstration