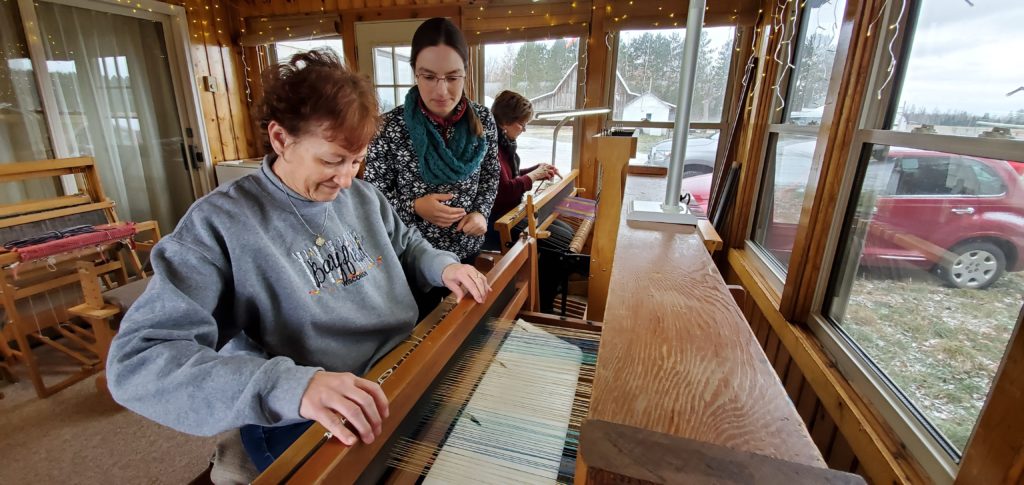 Philosophy of Teaching Thoughts from Laura
What does it mean to walk the path of a teacher of ancient fibers arts in our modern world?  What does studying fiber arts offer for today's learners?  These are questions I consider often, and with this page I hope to share some of my thoughts and style, so you can have a chance to know me better as an instructor.
With my mantra "Liberating the Creative Soul" at the heart of my teaching practice, I see my role as gate-opener along each student's journey.  Whether this is demystifying a process by breaking it down into manageable steps or offering creative permission and encouragement that helps work through learned barriers to expressive flourishing, the work of being a teaching artist is both immensely rewarding and challenging in a beautiful way.  My teaching style is infused with patient compassion, which is something I find we all crave in our hurried and often judgmental world.
I take a deep interest in my students and their learning goals.  This is reflective of my own unique learning journey, from Montessori roots through unschooled homeschooling, to college and grad school in progressive, student-centered models influenced by Dewey, Holt, Pitkin, and the colleges of Oxford and Cambridge.  It was an experience as far from the mainstream academic fetish of tests and grades as possible.  Learning and life, instead, are viewed as inextricable and informative to each other, with a view towards maturing a socially conscious, whole person.
In my fiber arts teaching, I seek to bring that nurturing of the bigger picture into play as well, whether it's weaving in related mythology in a tapestry class, sharing a song about the exploits of a hungry fox in a needle felting class, or explaining aspects of biology in how colors are created in feathers during bird-themed punch needle rug hooking courses.  I also invite students to tell their stories as well, and it's always a delight to hear the intersections between what we're making and other's experiences–whether it be sock-stealing foxes on a hiking trip or kayak and loon parades on the lake.  Stories connect us with each other and add meaningful depth to our time together.
All of these fiber practices I teach have deep roots in history and culture across many regions and disciplines, and bringing those worlds forward are an integral part of my class environment.  Having taken time to walk in those many worlds–Celtic, indigenous, Nordic, Flemish, Colonial, Contemporary–I know that there is no singular way of making and that each discipline has its particular reasons.  This insight offers breadth as well as depth to the student experience.
I'm also keenly aware that there are many different ways to learn.  During my classes, you'll see me using oral/aural methods, visual methods, and kinesthetic.  I'll use rich, descriptive language to unpack what I'm doing–especially in my virtual classes held on Zoom, where I can't hold a tool with you to show you what's happening.  I'll also frequently invite your feedback and questions, rather than ask for a quiet, lecture-like space.  Quite often, the question you have about your piece is also on someone else's mind, and they can learn along with you as we troubleshoot.
In my teaching methodology, I will be relaying process discipline without asking for perfectionism.  In fiber arts, having good process discipline greatly increases the chance of a successful outcome with your project and helps ground you in technique.  This does not mean that what you create needs to look just like the one I'm using to demonstrate the process!  Instead, I love seeing how following the same steps can ultimately create diverse variation as we each work the process through our own creative lens and personal abilities.  This is about the journey we are taking together, more than it is about the finished product.  I'd love for you to be proud of what you create in class, but ultimately I'd love for you to walk away feeling like you have greater confidence in the medium to continue your adventures, keep learning, and hone your skills.  If the needle felted sheep you made gets a long neck, well, it might just have wanted to be an alpaca instead!  Embrace it's inner alpaca and learn from the process.  You can always keep making as many sheep as you desire!
Fiber arts are deeply woven into my own story and process of becoming–from the first crochet hook my mom showed me how to wield at age 8 to years of mentorship with master Navajo weaver Fran Potter starting at age 13, to the many friendships and collaborations with makers and teachers since.  When I am creatively making with fiber, I feel alive and at peace, infused with agency.  It's a magical world of nearly endless possibility–a world I invite my students to enter.
In the Hero's Journey, gatekeepers stand sentry at important threshold moments, causing many to turn away.  Magical helpers (gate openers), alternately, are there to point the way, walk beside, and offer council and tools.  Ultimately, the one taking the journey must decide to carry forward across the threshold and past their own looming inner gatekeepers, but they need not go there alone.  The magical helper has crossed that threshold many times before, understands the dramatic arc of the journey, and knows how to press on even when you're at that spot in your project where it feels like things are never going to come together and surely this is going to be a terrible flop.  Belief in the enduring and healing power of the creative process and a belief in YOU as a creative being is what I draw on to carry us through the journey of the class.  My goal as a teacher is that you walk away from that experience feeling energized, empowered, and and inspired.
Here's to many wonderful, meaningful fiber arts classes to come!
Excerpt from Writings for the Next Episode of my Design...
Read More