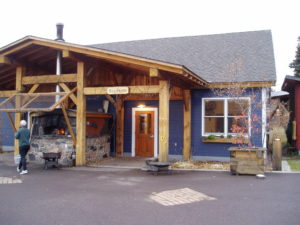 As an interdisciplinary artist, it's important to keep adding to the toolbox–discovering new techniques, fresh alternatives, and new mediums to explore.  Otherwise, even the most engrossing work can grind down to tedium and boredom.  And I don't do boredom.
So each winter season on the farm, we make a concerted effort to tag each other out in order to create the space for "filling the well"–venturing out to learn, explore, recharge, and grow.  This year, I was after one of my bucket list items: attending a course at the North House Folk School in Grand Marais, MN.  The school had started up just a couple years before we moved north to the farm, but it had just never worked out for me to go previously.  Now it was time, and I scoured the newspaper-like catalog filled with offerings with a mix of intense purpose and glee.
Months later after registration, with rolling suitcases and therapy harp packed in the PT Cruiser, I was heading north along the shores of Lake Superior, off on a weekend adventure in beginning millinery.  It was a hybrid of at least two of my of creative interests (costume and felting), brought together in a medium that has been a mode of personal expression across the ages:  the felt hat.  Yes, I had made plenty of hats before–shaping buckram, snitching plastic from ice cream buckets, pleating and stitching.  But I had yet to try blocking felt hats.  I had visited Swan and Stone's studio in Vermont and was much intrigued, but a brief observation is never the same as getting one's hands fully immersed into the process.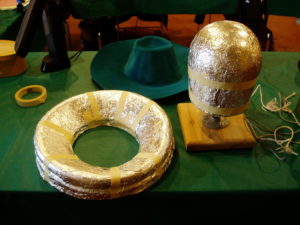 I had my "materials list" fully populated (stashed in a cheerful fabric tote with an ample supply of pockets), my mandatory hair dryer, and much eagerness as I stepped into the classroom at "Blue North" on a campus that looked like it could have just as easily been perched on the coast of Maine as on the shores of Lake Superior.  Friendly Millennial staff and interns were busy checking in students and stoking the wood-fired pizza oven for that night's potluck festivities.  Every room of every building had a class in session–from rosemaling in the room next to ours to Damascus knives in the blacksmith shop to the north, antler baskets across the street to beaded leather mittens in an upstairs room, liverwurst in the kitchen and twig furniture nearby, plus yurt building and wood carving.  Everywhere you went, someone was eagerly working away at a project and happy to share their progress story with you.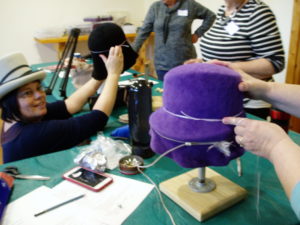 In our classroom, instructor Emily Moe of Moe Sew Co Millinery laid out two tables full of carved wood "blocks," each one unique and full of character.  Some were newly made and stackable, some weathered and stained.  Each block, just like each hat, had its own sense of self and style.  Previous to coming to class, we had each picked out the color of the wool "blank" for our hats and whether we were making a cloche or a brimmed hat.  But because no two blocks were the same, no two hats in the class could be the same–which actually made the process much more delightful, since we could learn from each other's projects as well as our own.
I had spent time searching for the right inspiration hat to try to emulate and soon found myself perusing images of the famed hats of PBS's Downton Abbey.  The jaunty angle, creative brim work, and multi-textural adornments on the crown of one of Lady Mary's blue hats caught my eye.  I didn't have a way to know if this hat was approachable as a beginning milliner, but it seemed like a beautiful piece to strive towards.  Emily, however, was encouraging of the pursuit.  It didn't take long, though, to see that I was making the hardest hat in the class (surprise, surprise), replete with having to form the crown separate from the brim.
In deference to Emily's request not to broadcast a play-by-play of the class' process, I'll stick to some highlights.  If this leaves you curious, take a class!  It was a wonderful way to enjoy an immersive weekend off-farm.  It grew especially immersive when I put an extra hour and a half into my hat at the end of the first day, so I could be ready for the morning's next step in the process!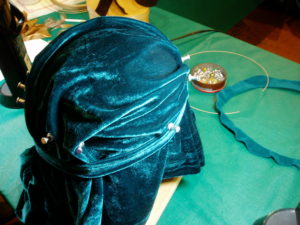 Part of my own unique challenge in the hat class was not only learning the felted blocking process (which works up amazingly quickly) but also building the particular adornments that made my hat distinctive.  This included reverse-engineering the textured velvet over-cap.  In my classic repurposing methods, I had brought an XXL velvet shirt (thrift store find with original retail tags in tact).  Using the same wood block on which I had formed the crown of my hat, I draped one side of the shirt over and began tacking it into place to play with creating the right elements of drape and fold.  Cutting part of the hem from the other side of the shirt, I used this to create the band at the base of the over-cap.  After hand-stitching the drape into the band, I could then trim off the remainder of the shirt.
I had brought some beautifully long tail feathers from Buddy, a Barred Rock rooster, as well as a mother-of-pearl butterfly pin from my grandmother.  Emily had just enough lovely navy blue veiling with white speckles, and a light teal beaded set of leaves in her stash, which came together in a stunning arrangement, completed by a soft rose I stitched out of trim extras of the felt from making the brim.  By that evening, when I finally called it a day, I had all the elements pinned onto the hat.  I thought, "There are a lot of components here!  I'll leave it like this, sleep on it, and see if I still like it in the morning."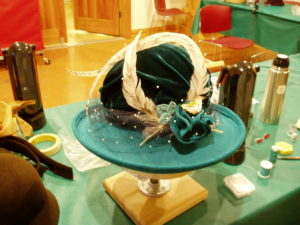 I did.  But they all had to come back off the hat for the moment, so I could stitch in the ribbon on the inside of the crown.  Then, layer-by-layer, stitching and tacking, the hat came together as a whole.  First the velvet over-cap, then the veiling, then those lovely feathers, then the beaded leaves, then the rose (to which I had added some needle felting of yarn into the crevices), and finally the pin.  Even with using a thimble, my fingers were incredibly sore by the end of the day!  Stitching on that rose (which involved pushing and pulling the needle through five layers of the hat felt) could really have used a pliers!
With the decorating part of the hat making process, though, I was completely in my element–posing, stitching, troubleshooting.  I could seriously get into decorating hats!  Now if only I could find a way to make the blanks using wool from our sheep, wouldn't that be amazing?  But that piece of the puzzle had to wait, as our learning felts were made from the under-fur of rabbits (apparently a friendlier beginner material).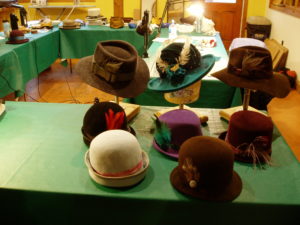 By the end of the two-day intensive, everyone had created a unique and beautiful hat!  We brought them together on one of the work tables for a "family portrait."  As my sister commented when I was sharing photos from the adventure, "Everyone made hats, but you made A HAT!"  I think that Emily may have secretly wanted to keep it, but she did let me have it back after trying it on and posing for the mirror.  I was so proud, eager to get a photo in the mirror back at my vacation rental right on the shores of the big lake.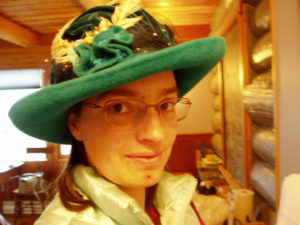 Where will the hat-making adventures lead next?  Check later as the journey continues.