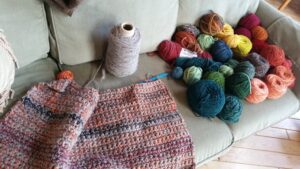 Artists don't sit still well.  Repeating what's been created before soon becomes painfully boring, and I find myself yearning to push the boundaries and try something new.  Because of the squirrel attack on my studio yurt (and the fact that I'm still dealing with mice in there), all of my copious yarn stash had to come into the house and so far has stayed there.  This effectively forced me to organize the horde (including make sense of what had been damaged or destroyed by the rodent attack) and notice which yarns had been in the stash for quite some time without ever finding a home in the right project.
Many years ago, we had a sheep that was given to us that was supposed to be a Navajo churro.  Yay, I'd thought, he'd make great yarn for my tapestry work!  But he turned out to both be snarky and not a churro sheep, and we rehomed him.  In the meantime, I had accrued several sheerings of his fleece, which I had processed into lopi yarn.  But the yarn was coarse and rough, and not suitable for weaving.  What to do with it?  I wasn't sure, so the cones just sat, waiting for their moment.
Now they were in the house, saved from the squirrel attack, sitting once more.  It was time to find something creative to do with this yarn!  I'd been curious about the process of felted knits (a wet felting technique) but as felted crochet, and was interested in adapting a pattern for a felted rug.  This coarse yarn was certainly rug grade, but would it felt well?  I grabbed an oversized hook and tried making a test swatch.  To my delight, it did!
The yarn on the cones, however, is all a natural gray, which looks cold and bland by itself.  It needed some visual warming, so I returned to the stash and began pulling out other colors to work into the rug—the glorious colors of autumn.  Deep red, pumpkin oranges, greens, browns.  During the felting process, these meld together as if looking at the stately maple trees across the barnyard on a foggy morning.  The gray reminded me of the weathered tones of the bark on maple trees, while the fiery hues popped out like the rustling leaves.
With the first rug completed, it was time for felting.  This was not a tiny rug!  I began in the utility sink, bringing on the hot water and soap to discover that the mock-churro yarn was still infused with dark lanoline.  Several washes later and plenty of hand agitation, I squeezed out the excess water and brought the rug to a towel-lined work table.  When teaching at North House Folk School last February (before COVID shut down such activities), and had enjoyed visiting another class in progress on Nuno felting.  While they were working with wool roving to create delicate fabrics, it felt like elements of this technique could translate into my crocheted felt experiment.  I laid out bubble wrap, grabbed a pool noodle, and began rolling.  Later, I laid towels out on the floor and repeatedly threw the rug down with a slap, which is supposed to help shock the fibers.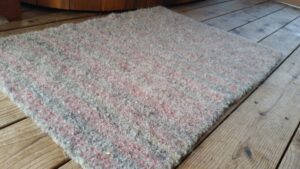 And then I took the piece and the towels do our clothes dryer.  I know that my knitted felting book (which wanted me to use a washing machine but said only use top loaders, which is not what we have) said to stay away from the dryer, I knew from experience wet felting braided roving for coiled rugs that this was where the real tightening happened.  I stayed close by to check often and remove the plethora of guard hairs that accumulated in the lint basket, and gave it a whirl.  It felted up beautifully!  Thick yet luxurious, all the colors melding together.  Now I'm hooked!  Onto the next rug and using up that old wool in a fun new way.
Keep experimenting.  It's good for your brain and your soul.