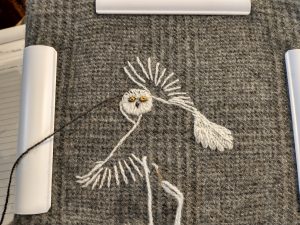 I learned embroidery as a kid the old-fashioned way, from my mother.  She had learned from her mother as well, just as Grandma had learned from Great-Grandma.  I loved the quiet, gentle rhythm of the stitches and the design coming to life as each new color and design element was added.  Mom had a whole book filled with magical colors of cotton floss, ordered by number like a pallet of paints.
First cross stitch and then counted cross stitch were the styles of choice, and I worked my way through many kits, often giving the finished projects as gifts.  One early piece I gave to my grandma (perhaps a Mother's Day or Christmas gift), which she kept for years and years.  As she and Grandpa pared down their things, she wanted me to have the embroidery back.  It had been a treasure to her, and she didn't want to see it lost.  I'd almost forgotten about making the piece!  Now I have a bit of those childhood moments to keep and remember.
Embroidery and young women have been intertwined for hundreds of years.  The invention of steel needles in the 1500's revolutionized the quality and availability of sewing needles, and the possibility of making fine stitched work at home boomed.  Depending on the task at hand or the affluence of the stitcher, wool or silk was used, as cotton became available later.  Immigrants brought their embroidery skills with them across the ocean, as well as learned new ones from each other after settling.  It was a way to express heritage, make everyday items special, and teach patience and precision.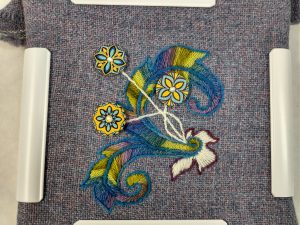 Novels and stories I was reading in my youth painted a disparaging picture of needlework for young women.  It was tedious and boring and unproductive compared with the adventures the protagonists yearned for.  Embroidery represented the prison of the conformist female experience—something to escape from.  This felt completely different from my own lived experience of practicing embroidery, with its availability for creative expression, its portability, its calming and quiet nature.  Many a stitch was wrought as my mother read stories and histories to my sister and I, bringing the family together.
Embroidery came back into my life with the start of the COVID-19 pandemic.  In the extreme uncertainty of the unfolding of that new world, I was having trouble sleeping and was facing off with overwhelming anxiety.  In an effort to find a practice to help me calm down, I raided my stash and found all the old embroidery supplies still waiting for me.  There were even a few unfinished pieces in the mix, and I took these up first, picking up where I had left off as a young adult.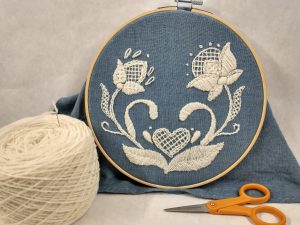 More recently, with my continued research into culture and couture of 16th and 17th Century Europe, the beautiful embroideries leapt out at me, with scrolling flowers, vines, birds, and more.  Embellished with goldwork and pearls, these works offered a magical Secret Garden world formed in stitches.  Representing the flowering of crewel embroidery in wool, I was intrigued.  As a sheep farmer and fiber artist of many mediums, I had yet to explore a world where embroidery and wool came together.  Watch out new rabbit hole!
The ensuing adventure has been a real delight, as I explore and experiment.  Many of the stitches I learned as a kid still apply, while there were many new ones to explore as well—from trellis work to laid and couched stitches, herringbone to fly stitch.  Crewel is a "free style" of embroidery, so the stitches are interpretive, rather than the structure of counted work like needle point.  In essence, the process becomes like drawing or painting with the threads.
One of the most interesting potential definitions of art I encountered in graduate school was "to make special," and embroidery certainly falls within this camp.  You take something that is already structurally sound and useful (fabric) and add something to it that doesn't really make it stronger or more useful.  Instead, it makes it special, beautiful, unique.  The fact that embroidery uses such few and rudimentary tools is also part of its delight for me because it's really all about what you as the maker bring to the process, what you see in your mind's eye, and how you make that unfold under your hands.
This month, I'm moving forward with preparing to launch online coursework in the vein of wool embroidery, starting with a floral pattern I created worked in white.  This way, students can focus on learning the stitches and their order, and later we can add techniques that involve many colors.  While creating the mockup for the project, it was a fun puzzle to figure out how I was going to incorporate 14 different stitches withing the motif while still having it feel balanced and pleasing to the eye.  I'll be road testing this project with a handful of students next month—woohoo!
Whether it's embroidery or gardening, walking the dog or woodcarving, it's important for each of us to have a practice that helps us feel grounded, safe, and calm.  In a world that seems to spin faster and faster each day, finding ways to unplug and enjoy a gentle, pleasing rhythm can be absolutely essential to our sanity as humans.  This week, take time to tend that space for you and those you love as well.