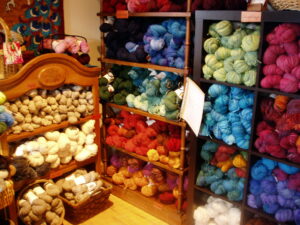 The stash.
I wish there was a prettier word for it, maybe something that sounds a bit more French?  Even horde sounds at least medieval or fantasy oriented to describe an assemblage of art or craft supplies, but "stash" seems to have become the term of choice.
On the other hand, I don't want to think of it as hoarding, as that implies having the supplies just to have them, gradually accumulating more and more until the house bursts.  Instead, I feel that I am a half-way house for fiber arts supplies, with raw wool heading off to the mill, a vanload of finished roving or yarn coming back, boxes and boxes of kits and class supplies heading out in shipments, and finished goods heading off to gift shops or special orders.
My stash might be sneaking towards warehouse proportions, with running inventories and numerous shelves and bins, but I haven't invested in a forklift yet.  Some of the influx and outgo is predictable and managed, but some stash events come as surprises.
These usually include gifts from other makers' stashes.  Terry, one of my very first needle felting students called me up about a year ago asking if I'd like some wool fabric.  It had come to her from the stash of a friend who was a quilter, and she was looking to clear the space these boxes were occupying.
"Sure," I said, thinking I could certainly find a fun project for the fabric, "It might work well for rag rugs."
Terry was not joking about these boxes taking up space—there were quite a number of them!  The colors were lovely—intense reds, greens, blues, and purples—but the actual pieces of fabric were quite small (cut-up jackets, coats, remnants, etc), which would make stripping for rag rugs not as ideal.  All the pieces were washed, so they had felted a bit.  What to do with this unique stash?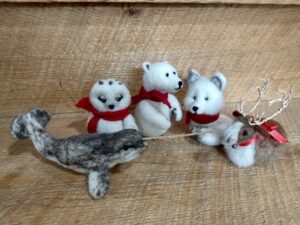 And then as I was designing needle felted critter kits with wintry themes, I thought to cut up some of the fabric into small strips to give the arctic foxes, snowy owls, and polar bears little scarves to wear.  It made them so cute!  Now these small, felted fabrics had a perfect use, and I'll have a source of tiny scarves for life!
Other times, I become the recipient of stashes of the deceased—bags or bins of yarn, a box of crochet hooks, old lace, buttons, and more.  Family members want to see these stashes go to someone who will use them, and receiving them is an honor.  Sometimes, the stashes are of elderly friends or relatives of friends who are downsizing.
Lisa, a musician friend of mine, was preparing to move to another state, and she was working to sell her mother's McCumber floor loom.  I made a trip up to see it and agreed to buy it, and she decided to include all of her mother's weaving stash in the bargain—yarn, thread, bobbins, shuttles, books, winders, and more.  I'm still working through many of the supplies!  Perhaps, eventually, I'll make and sell enough goods from the stash to offset the cost of buying the loom.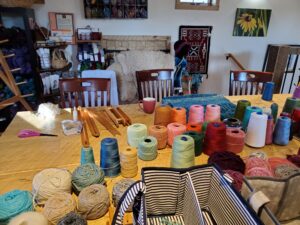 Most recently, my friend and fellow fiber artist Christine has been continuing to divest and downsize.  Her beautiful varpapuu tapestry loom that Grandpa helped me restore currently holds my Zen Cranes tapestry project in my studio yurt.  Christine is in our farm's CSA program, and occasionally she sends home more yarn, hand tools, or dye materials.  The other week, she called saying she had wool for me.
"It's a lot!" she offered, "But some of it I brought over from Germany."
"Of course," I answered.  I always have a good use for wool.  Lately, I've been making so many felting kits that the wool from our sheep isn't keeping up.
Christine decided it was too much wool to send on a CSA route, so she brought them down to the farm herself.  She arrived in her little car, and the bags of wool came out like clowns—they just kept coming and coming and coming.
"How did you fit this all in here?" I asked as she handed them off to me a couple at a time.
Even when she was about ready to drive away, she realized there was more in the passenger foot compartment, and she had to come back.  The bags filled our cargo van!
"I thought I would use this for spinning, but I've decided I'm not going to get to that now, and someone needs to use it," she offered as she shared the stories about each of the bags of cleaned wool.
"I certainly will find beautiful ways to use them!" I promised.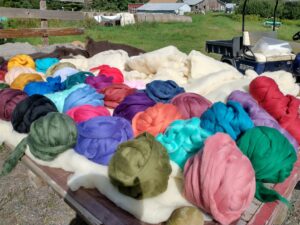 The bags were a bit musty from being stored so long, so I unbagged the collection and laid it all out on one of our hay wagons, to let the air and sun work its magic.  There was lovely natural grays and browns, which will work perfect blended with our wool for gray yarns that I need for upcoming tapestry kits.  Other fun includes merino roving in a delightful array of colors, which will work perfect for future projects I'm already dreaming about.  What a wonderful gift from one fiber lover to another!
What do you have in your stash, and what project is it inspiring you to create?  Have you, too, been an inheritor of stashes?
I recently saw a meme going around on social media encouraging folks to create their own dragon titles.  This included one's first name spelled backwards, followed by some help from predictive text.  My dragon name would likely be:  Arual, hoarder of wool and looms, though my farm version might be hoarder of chickens and lettuce—depending on my dragon mood!
As the year slowly turns towards the colder months, I'm looking forward to having a bit more time for stash-inspired projects.  Are you?  Happy creating!