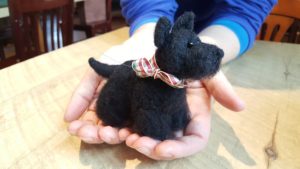 Dogs have played a special role in our family, from early memories with Grandma and Grandpa's Golden named Honey, to the misadventures of the Black Lab Meg to our sweet little Bichon Sophie, and hard-working farm dogs Lena and Finlee.  We've had furry family members in all shapes, colors, and sizes.
But it wasn't until this last holiday, when good friends in Colorado asked for a likeness of their Great Pyrenees Maggie, that I began the adventure of needle felting miniature likenesses of these furry friends in earnest.  I had no idea that one or two would blossom into such enthusiasm!  We all love our dogs!  I even made likenesses of beloved dogs that had passed as Christmas presents for family members, which brought smiles and tears at the same time.
In this post, I want to celebrate some of the fun, sweet, and wonderful dogs I've been asked to needle felt.  Some of the dogs got to meet their miniature likenesses, while others have passed on and the creation serves as a precious keepsake.  Some even include real fur from the dog.  Enjoy the pics!
Maggie
Fred
Max
Remington
Simba
Bernie
Buddy
Lemmy
Junior
Family dogs:  in remembrance of Sophie, Bo, and Lazy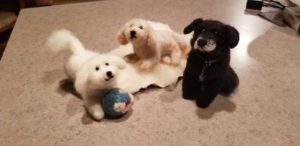 Maggie came back full circle for a larger, more realistic pet portrait that is the size of a puppy!  This includes real fur brushed from the dog.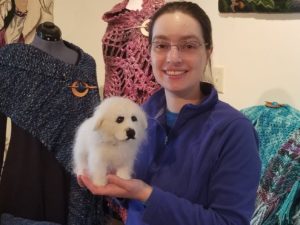 If you're interested in having a miniature made of your favorite dog(s), please check out the new page I created to help answer your questions about how the process works, pricing, etc.  I'd love to see pics of your beloved pet as the creative adventure continues.  Woof, woof!