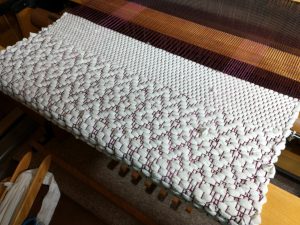 The New Year is here, and with it a chance to start something new.  In my fiber arts studio, I'm always excited to start new projects (indeed, works in progress are everywhere around here!) as well as share them virtually in Zoom classes.
Earlier this winter, students were nudging me to offer floor loom instruction via Zoom, so they could feel supported as they got their looms weaving again.  I had been offering these classes in-person on the farm before the pandemic but had since shelved the project.  The looms sat on the glassed-in farmhouse porch, waiting.
At first, I wasn't certain how to make something as extensive as warping and weaving on a floor loom work for an online class, but as my confidence has grown through needle felting, tapestry weaving, loom beading, and punch needle rug hooking mediums, I finally felt ready to give it a try.  The schedule lull over the holidays seemed like the perfect time to begin.
New Years Eve, I shoveled a canyon through the plowed bank, up the couple of steps, and the small deck that leads to the loom porch door.  Inside was a forlorn time capsule from that final class, plus the accumulation of supplies and materials that had simply been stashed in the space.  In true old farmhouse fashion, collected dead flies and ladybugs were everywhere, and it all needed a thorough cleaning out.  I rolled up my sleeves, plugged in the vacuum and started at one corner.
When you look at the whole mess of the problem all at once, it can become exceedingly overwhelming.  We come up to a daunting task, realize the magnitude, and decide that procrastinating sounds much easier.  Instead, resolutions to declutter, to reclaim, or to organize start best at one corner, a trick I doubtless learned from my mother.
Floor looms are hefty pieces of equipment, and I have four of them in the farmhouse porch.  This meant clearing enough space to move a loom, clean its spot, then drag it back.  Piles became organized into boxes, tools were put away, good objects were sorted from trash, which was then removed.
Cobwebs in the corner were demolished, and piles and piles of bugs meticulously vacuumed.  Inch by inch, the space became transformed from chaos into order, from neglect into an inviting, working space.  By suppertime, the space was ready.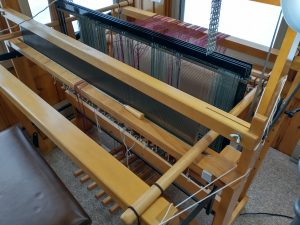 Meanwhile I'd been dusting off and updating the course handout for weaving a rag rug in a point twill style from Sweden known as "rosepath."  Rag rugs can be quite fun (and fast) just as plain weave (also called "tabby"), but adding decorative designs in the warping and how you weave it makes the process and the project extra special.
I gathered up my materials and tools, stripped up old flannel sheets, and prepared my warp in deep rose colors.  It was time to haul in the recording equipment and film the tutorials that would help students translate the project onto their own looms at home.
Videography instruction was not a hat I'd anticipated wearing in January of 2020, but I'm grateful that I took the leap then, just as I'm taking the leap with floor loom weaving classes now.  With every stretch, we learn so much.  With every stretch, we grow as a person.
Just as cleaning and organizing the space takes time, warping a floor loom takes time and attention to detail.  Once warped, floor loom weaving goes quickly (especially compared with tapestry weaving!), with the tedium spent on threading each warp string appropriately through all the various working pieces of the loom.  Errors in this process will mar the design, so you take your time and double-check your work often.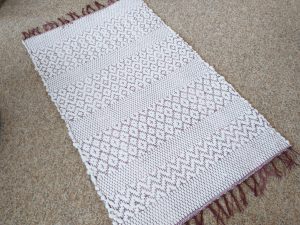 It's not about perfection, however.  If we focus on being perfect, we will always disappoint ourselves.  Instead, we can focus on precision, which is a skill we all can learn.  Little idiosyncrasies can often be forgiven in the weaving of a rag rug, just as little idiosyncrasies in ourselves makes us unique and interesting.
New Year's Day, I filmed warping and weaving on my Macomber 4-harness floor loom.  It was well past dark when I finished.  Today, I'll weave the header and take it off the loom.  What once was old sheets, spools of cotton, and an empty loom in a musty room will now be a finished, beautiful piece in a working, cozy weaving space.
As you think on your new endeavors for the New Year, remember to start in one corner, take it a piece at a time, let go of perfectionism, and celebrate the wins.  Time to head to the studio to finish filming!
Learn about the class here.