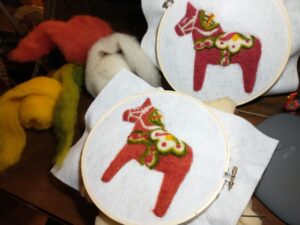 Creating can be so much fun–invigorating, stimulating, and able to make hours disappear like mere minutes.  If you're like me and a prolific creator (or you've been taking a host of my Zoom classes lately), you are probably creating quite a collection of items you've made.  Now, what to do with all this creative wonderfulness?  The answer is that there are so many delightful options, I thought it worth trying to capture a few to share with you.
To begin, let me share my philosophy of utilizing handmade items.  I was recently on a social Zoom gathering of makers and one knitter admitted that she has a whole closet full of things she's made that she isn't using or hasn't given away because too many people aren't "knit worthy."  She added, "Folks can give it away after I'm dead, and then I won't care."  I have to admit that my heart broke a little when hearing this sentiment.  If you don't allow your pieces to be enjoyed until after you are dead, how will you see those pieces touching others, brightening their lives, or bringing comfort and joy?  There is no hygge in a closet full of hand knitted gifts not given.  If it's too precious to be worn, make it into a wall installation–but still find a way to enjoy them!
When I design my class projects, yes I'm building in steps that are critical to learn, but I purposefully integrate those steps into projects that have aesthetic interest, rather than just a sampler that will end up in a drawer and never be looked at again.  How much more fun to make a painting with wool Dala Horse instead–learning the steps and technique while also creating a lovable finished object with a story and references to cultural heritage.
And yet, when class finishes, what will become of the felted Dala Horse?  Not the dreaded closet, please!  Let's explore how you can invite your creativity on the journey of "now what?" once you've made your project.
A painting with wool project makes a great illustration, as students often wonder how to use these pieces (whereas felted critters usually have a predestined home adorning the office desk, gracing the mantle, or bringing a smile to a younger family member of choice).  I'll use examples of ways I've taken this type of project (and a few others) and transformed it into different, enjoyable items, along with student examples.
Framing
Sometimes you just want to put it up on the wall and marvel at what you made!  This is especially true of pieces that have taken a long time or include rather fragile elements.  The embroidery hoop can make a nice frame, or I've used commercial frames but left off the glass, so that you can still enjoy the textural and dimensional qualities of the piece.  You can use a steam iron to take out the distortion in the backing from being stretched on the hoop if needed and trim off any excess fabric after framing.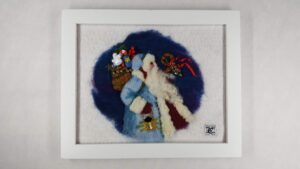 Framed version of Kris Kringle, showing off the beadwork and bobbles.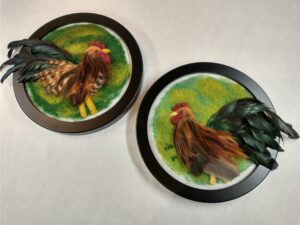 Pair of felted roosters with real chicken feathers mounted in round frames.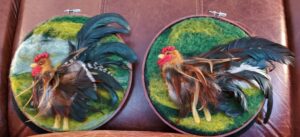 Student project:  Two felted roosters with real feathers in painted embroidery hoop frames.
Pillows
Pillows can make delightful home accents that show off your wool painting.  Trim the backing as desired and blanket stitch onto the pillow with embroidery floss in a harmonious color.  If you're making a pillow from scratch, you can attach the piece to the fabric before making it into a pillow as well, using all sorts of creative stitches or applique methods of your choice.
Owl Moon stitched into a pillow.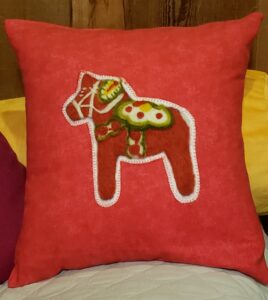 Student Project:  Dala Horse on a pillow.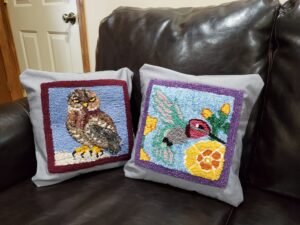 Student Project:  Punch needle rug hooking on pillows (needle felting shouldn't have all the fun!)
Book Covers
I find something just delightful in crafting fabric book covers–the kind you can slip on and transform an otherwise mundane journal or sketch book into something truly special.  Again, you can use a blanket stitch or whip stitch, and be as simple or as creative as you please!  Add a ribbon book marker, button and tie clasp, and more.  These also make excellent gifts.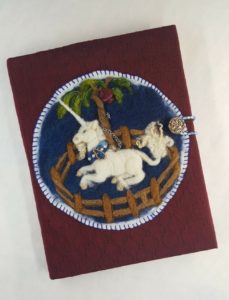 Unicorn at Rest sketch/art book cover on upholstery fabric.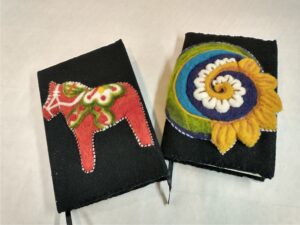 Dala Horse and Flower Fantasy journal covers on black felt.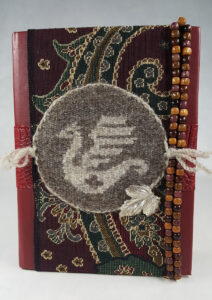 Small tapestry on a book cover with wood and metal adornments–the possibilities are endless!
Stuffed Ornaments
Smaller or shaped pieces can be cut out, along with its double in felt of a complimenting colors.  Stitch the two pieces together (blanket stitch with embroidery floss works great), add a decorative loop and stuff before finishing off the last of the stitches.  This can create a charming home accent or gift.  Embellish as desired!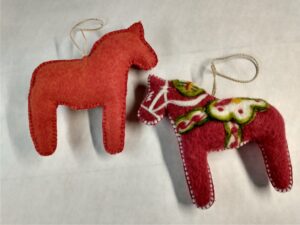 Dala Horse felted ornaments, showing back and front.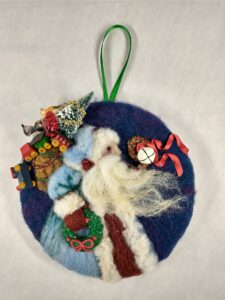 Seeking greater rigidity, this Kris Kringle is stretched over a cookie tin lid, then backed with felt.
What other ways might you explore enjoying your project?  Please use the form at the bottom of the Student Project Showcase page to share what you've made!  Bring your creations out of the drawer or closet and find ways to enjoy and use them, or turn them into a lovely gift.  The smiles are so worth the effort.  Be inspired!