The pursuit of knowledge and skill is a journey, never a destination.  This page is dedicated to sharing elements of the journey that may be useful on your own.  It also offers ways to source materials, learn more, and connect with my work firsthand.  I will continue to add to this page as new resources arise.
Enjoy!
Supplies, Patterns, and Kits

Project kits from Erindale Tapestry Studio for needle felting, crochet, and knit projects can be found in two great places:  via my Etsy Shop and the art and craft kits part of the farm's e-store.  If all you are looking for are kits and you need them shipped, Etsy may be the preferred way to go as they have a built-in shipping calculator.  If you want to source additional supplies along with your kits or you're picking up at our farm, use that route.  I can definitely ship a farm store order to you, I'll just be in touch about shipping costs after packing your order.  The kits are excellent project starters and also make excellent gift for your fiber-loving family and friends!
NEW Tutorial permissions are now available via our farm's e-store for download.  These include a link to the video with password as well as a suggested materials list and image of the project.  Have plenty of materials on hand and don't need a kit?  This allows you to learn how to make a project at your own pace.  You can also use the links below to purchase materials separately.
Erindale Tapestry Studio Ravelry patterns for crochet and knit for download.  You can also order paper versions on our farm's e-store.
Tools and supplies as well as project accessories from felting needles to sheepskin hat poms, shawl pins to Oxford punch needles also now have their own featured spots on the farm's e-store.  NEW for2021, strings of 10 glass beads used for felted critter eyes in all three colors I use in my kits and classes.
Wool roving from our sheep for felting or spinning is now available to order in over 30 different colors!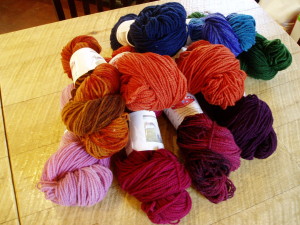 Wool yarns from our sheep, from fingering to aran, worsted to bulky is available in a wide array of natural and hand dyed colors.
Where Can I Find Erindale Tapestry Studio and Laura's Art?
Laura is a prolific maker!  Many of her creations (or chances to custom order pieces) can be found on the farm's website.  Here are some helpful links to get you started.
Gallery Items:  Explore beautiful pieces to adorn your home or special place.
Gifts:  From cozy wearables to cute felted critters, home accents and so much more.
Fiber Loft:  Located in the upstairs of Farmstead Creamery, this is the headquarters for wool and roving from the farm's sheep, supplies, inspiration, project starters, and more.  All inventory currently available on the farm's e-store.  This is also the home of Laura's new Zoom teaching space.  You can learn about that transformation by reading this post.
Erindale on Consignment:  you can also find my work at these consignment shops!
North House Folk School, Grand Marais, MN
Duluth Folk School, Duluth, MN
Vesterheim Folk Arts School, Decorah, IA
Ely Folk School, Ely, MN
Rabbit Row Yarns and Haberdashery, Corning, NY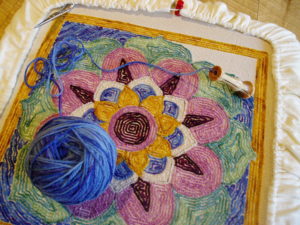 Contextualization
Learn about the Farm that's home to Erindale Tapestry Studio, including the flock of sheep that provide the beautiful wool.  North Star Homestead Farms has a strong vision for health and stewardship, as well as fostering creativity.
Additional Resources
Find resources and additional supplies for punch needle rug hooking at The Oxford Company
For resources on tapestry weaving, visit the American Tapestry Alliance.
Dig Deeper
Bibliography for my ongoing Lady and the Unicorn projects.
Copyright secured by Digiprove © 2019-2022