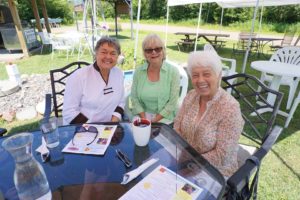 You really never know what a day will bring.  On a otherwise ordinary July day, a group of ladies arrived for lunch at Farmstead Creamery, led by Jane (pictured center) one of the authors who'd be featured in our Spoken Word series.  Along for the adventure was Christine Hensolt (pictured right), originally from Germany.  Farmstead Creamery is also my tapestry and textile arts gallery, and the pieces caught Christine's eye.  This sparked conversation about our shared interests in weaving and fiber arts.
Christine taught home economics, but now that her husband has passed, she is ready to downsize and let some of her things go on to have new lives with other people.  "I have this loom," she relayed eagerly.  "Well, actually I have two.  But I gave this one away once and the lady gave it back to me.  I just don't have room for it anymore.  It's so big."
"What kind of a loom is it?" I asked.  "Do you have a picture?"  While I do already have something like 15 looms in my collection, scattered from studio to house to sun porch, I did share my long-term goal of having a smalls school to teach weaving, especially tapestry.
"You know what," Christine announced resolutely.  "I'm going to just give them to you.  It's hard to find young people who care about this anymore.  I think that these looms should go to you."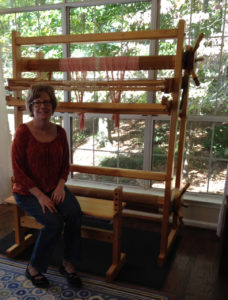 The girlfriends conspired and decided to pack up the pickup truck with all the pieces and bring them over the next week, which also happened to be Fiber Fest at Farmstead Creamery.  As they pulled in, I backed up our old trusty Jeep, and we transferred the pieces from one vehicle to the next, despite the wind and light rain.
"You can tell them apart by the color of the wood," Christine advised.  "The light-colored one is the tapestry loom, while the darker one is a floor loom that belonged to my husband.  Both are from Europe.  Oh, and you'll need these," she added, handing me a handful of heddle leashes.  "I really hope you can use these looms."
I later transferred the parts and pieces onto palates in our garage, trying to make sense of the "who's who" in all the jumble.  There was also a much-needed a thorough cleaning of the elements before I could get started.
I decided to tackle the tapestry loom first, which still bore the maker's sticker of Varpapuu from Finland.  After some extensive research, I could still find no trace of the company, let alone any sort of manual or diagram for assembly.  So I headed to Google Image Search and came across a couple of immensely helpful images from Molly Elkind's tapestry blog.  Based in Georgia, Molly's an avid weaver and teacher of tapestry, as well as a fellow member of the American Tapestry Alliance.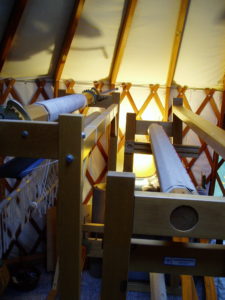 Soon we were corresponding as I was slowly working out assembly and scrubbing through buckets of "Mop n' Glo."  Molly had, since the blog post from a few years ago, sold the loom to another weaver (Debra) in Maine.  From the pieces I had, comparing them with Molly and Debra's photos, I could get a sense for what was missing or what needed replacing in order to bring the loom back into working order.
As the uprights went into place and the bracing was added, it was apparent that this loom had a sizable footprint–the same as my Gobelin tapestry loom and nearly just as tall.  The construction method, however, is markedly different, even though both have a vertical make and top and bottom rollers.  The Leclerc Gobelin loom is built like a box cage, with the tapestry stretching from warp to cloth beam in the center.  For the Varpapuu, the warp goes from the beam up over a top crossbar, then down the front of the loom, across another crossbar just above your knees (when sitting at the loom) and then to the cloth beam.  The Varpapuu also has a jointed, foot pedal-actuated heddle system, instead of the stick shed and leashes system of the Gobelin.  (At left is shown looking down on the two looms side-by-side, with the Varpapuu on the right.)
The Gobelin does have locks on both ends of both rollers and an extra screw-like tension adjuster on the cloth beam, plus additional corner bracing, as compared with the Varpapuu.  I'll likely save larger or higher tension projects for this loom, but I am curious about what it will be like working with the new heddle system instead of picking up the sheds by hand.  It might help the weaving work faster.
Making sense of the leashes alone was quite the task, all piled and knotted together.  Instead of being formed like my floor looms of rigid metal with an eyelet in the middle, these were of string with a metal eyelet piece.  The strings thread onto two rods (one set for each shed), which then inset into slider bars that are jointed to the crossbeam that is run by the foot pedals.  The whole piece, when not on the loom, looks very marionette like.  So slowly, carefully, I began to organize the leashes and stringing them onto the heddle bars–all 401 of them!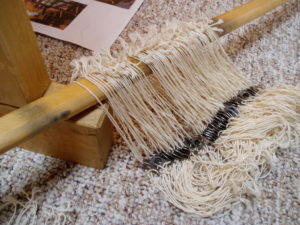 Sourcing nuts and washes, replacing bolts and missing wooden pegs, remaking the mount for the foot pedals with appropriate spacers, taking off the old, rusty chain and replacing it with strong nylon cording–bit, by, bit the loom was coming back to life.
As I worked, I wondered what pieces the loom had woven.  What was it's story?  How did it make it all the way here from Finland?  I shall have to ask Christine more about its past, once I can share the studio with her and the fully-restored loom she was willing to give me.  More photos to come!