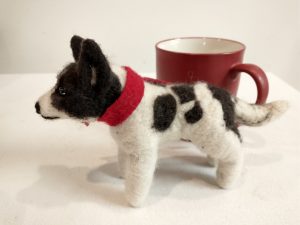 Shopping…it has never been a family favorite.  As far back as I can remember, Mom would remark how she loathed shopping.  We'd even challenge each other to see how fast we could breeze through a store for the items we were after!
Our holiday gifting to each other is customarily ever-so-practical:  new chore boots, insulated work pants, warm socks or slippers.  Instead of a whole fanfare of wrapping, we spontaneously shout "Merry Christmas!" when opening the package and promptly put the useful items to work.
When it comes to gifting for the rest of the family and friends, we love making presents.  Over the years we've made wreaths, cookies, corn husk dollies, hats, felted ornament version of beloved dogs who have passed on, prayer shawls, and more.
There's a real joy in the process of making holiday gifts, where we think on the recipient throughout the creation process—sending warm thoughts that infuse into the item in hand.  A homemade gift might not be shiny or trendy, but it's entirely one-of-a-kind and precious in its own way.
This year, when decorating the miniature tree that stands in the window at Farmstead Creamery, I had to pick and choose which ornaments to display.  What immediately rose to the top of boxes and boxes of choices?  All the homemade ones!  The tiny counted cross stich pieces Mom had made, the macrame snowflakes we made in abundance one Christmas many years back, the cornhusk angel on top, the tiny carved wooden reindeer Grandpa had made in his shop.  Each has stories and character that cannot be found in commercial products.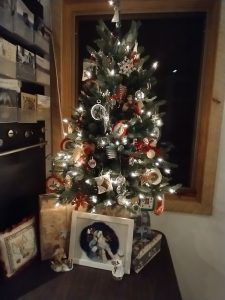 This morning, after chores, I headed to the woods to collect boughs for our annual wreathmaking tradition.  The sun shone brightly, slanting through the pines across the western field.  The frosty-furred Kunekune pigs grunted at me as I passed, up meandering about even before the neighborhood crows had risen.
I trudged through the deepening snow, pulling my black toboggan sled for gathering the fragrant balsam boughs.  Snap, snap.  My arms laden, the sled became piled high with delightful greenery.
Oh Christmas tree, Oh Christmas tree
Your faithful leaves unchanging…
Tonight, we'll cover the table with plastic, bring out the boxes of bobbles and ribbons, turn up the holiday music, and enjoy a family session of making and storytelling.  The whole room will smell magical, and we'll deck our doorways and send some to friends and family—a small piece of the farm arranged to remind us that the wheel of the year will continue to turn, and that spring will come again.
We've also been busy making presents for others—spending evenings by the wood stove knitting hats, felting doggie Christmas tree ornaments, and making needle felting kits.  Each day as I package the boxes to ship, I am warmed to think of the delight of the recipients.  Handmade joy travels well.
Yesterday, during my Zoom needle felting class, where we were making adorable gnomes, a student remarked how her project was going to nestle into her Christmas tree.  She shared that it was a family tradition to make small gifts for each other, going back to her grandmother, who would make little ornaments for everyone each year.  She still had several of them from her childhood, that she held up to show us!  These were not just decorative objects—these were talismans to memories of her childhood, of her grandma, of Christmases over the years.
I have a host of more Zoom needle felting classes over the holidays coming up that you are welcome to explore!  They are part of our farm's dedication to fostering creativity and community, even in these challenging times.
Do you have favorite Christmas memories of making or sharing homemade gifts?  This week, spend some time sharing or recreating those—dusting off Grandma's cookie recipe, teaching a youngster how to fold and cut paper snowflakes, or bringing out the knitting project.  Whatever type of creativity brings you joy, find a way to share it with the people you love.  Both your hearts will be warmed.  Stay creative and Happy Holidays!