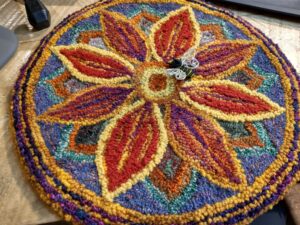 Being an interdisciplinary artist means that I'm not married to one medium or methodology.  Creative projects for me typically start as an idea seeking form–which might eventually become a song, a tapestry, a story, or any number of options for making.  Adding to my toolset for creative expression keeps things fresh for me as an artist and allows me to broaden my options.  This is not unlike adding a new color to a palate or learning how to play new notes on an instrument.  It's also exciting when I bridge or blend mediums, drawing on the strengths and possibilities of more than one method of expression (such as this image of a punch needle rug hooked sunflower piece with a bead embroidered bee I recently finished).
The fact that this COVID-19 pandemic has pushed more creatives to teach online (including myself!) has made it possible for me to partake of some new-to-me mediums and methodologies.  These include Anishinaabe style bead embroidery with Marcie McIntire and wet felting with Elise Kyllo.  While I'd been dabbling with adding beading to some of my felted creations, I knew I had a lack of process discipline and experience with what made a piece "work," so the three sessions with Marcie were immensely helpful and have since exploded into a host of small projects.  Recently, these have blended with my love of fiber and my grandpa's new love of wood turning.
In the class, Marcie had us working on deerskin, which was very hard on my hands.  So afterwards, I've been experimenting on thick felt, which has by comparison been immensely satisfying.  I wanted to make objects that were beautiful and useful, and the creation of a barrette made me think of the potential for shawl pins!  How fun to have small projects that would allow me to experiment with concepts and techniques that would also ornament some of the lovely wraps and shawls I make using wool yarns from our farm's sheep.
With Elise's class on wet felting bowls and berets, I was ready to create a new experience with wet felting.  Many of my needle felting students have heard the story that my teenaged experience with wet felting was a "felt a slipper on your foot" class that turned out making slippers that sasquatch might wear!  At the time, I was severely disappointed, but now I was ready to give the experience a new try.
While not nearly as precise (or tidy) as needle felting, wet felting with Elise proved to be much more enjoyable and successful, and I can certainly see it as a base process for additional expression, including my long-term goal of creating my own felt hat blanks using wool from our sheep.  The bowl proved quite sturdy and lovely, and I was itching to try some beadwork on it.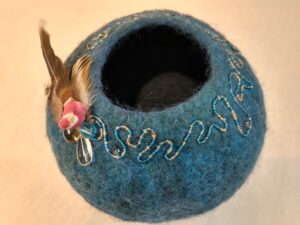 The feathers and little bird add some lovely charm as well!  In the second class, which was the beret, the structure is softer and lends itself to shaping.  Yet again, I found myself looking at the wet felted creation as a dimensional canvass for additional work.  When showing off my decorated bowl, Elise offered, "I'm surprised you didn't needle felt it," which felt like a collegial challenge for envisioning what to do with my beret, which looks more like a cross between a beret and a Scottish tam in shape.  The large, flat area felt inviting for a painting with wool expression, but I was also having so much fun beading that I wanted to try a hybrid.
Inspiration came from an old love–the Lady and the Unicorn tapestries, housed at the Musee du Moyen-Age in Paris.  I'm on a long-term project to recreate some of the gowns worn by the women in these tapestries (that could and likely will be a whole other blog post!), especially the hand maid from the piece known as "Taste," whose wardrobe is subdued compared to the central figure.  However, wouldn't it be fun to use that central figure as a motif on a hat that could be worn!  The challenge was on.
First, I spent time studying images of the original–drawing a feel for her posture as she feeds her parrot a treat.  Needle felting with wool roving from our sheep, I used my painting with wool technique to rough out the shape and add the main elements of color.  This was done freehand without drawing on the felt base.  I purposefully left the yellow of her gown slightly transparent to allow the blue background to show through to mimic the brocade of the original gown.
But I was yearning for finer detail than I could achieve with the wool alone, so I brought out my embroidery floss.  Embroidery is a skillset I learned from my mother as a pre-teen, and recently I've been returning to the medium as a way to self-soothe when feeling stressed during the pandemic, which has really been good therapy.  The embroidery layer allowed me to add details and definition to the piece as it emerged.
Then it was time for beading! First the hem and cuffs, as well as adornments to her veil and circlet began transforming the softness into sparkle.  I paid close attention to the choices in jewel colors and placements in the original tapestry while also having to minimalize for the small scale of the piece.  Decorating the hat took significantly longer than felting it, but the journey of the process felt so rewarding.  I've been in love with the unicorn tapestries since I was a homeschooled high schooler, and my work often circles back to a conversation with these magnificent pieces.  The women and animals have such a presence to them that speaks across the centuries.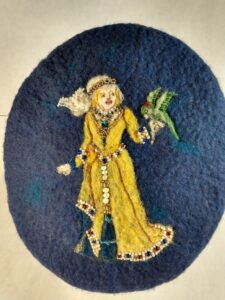 At last, she was fully adorned, complete with freshwater pearls and golden rosettes.  Talk about a lady showing off her bling!  I then gave the hat some bling as well, leaning on my costuming skills for the brim and adornments, including some peacock feathers.  This piece is truly wearable art, and it felt so good to give myself an aesthetic and technical challenge.  I'll certainly look forward to wearing this for a festive occasion!
Since taking these pictures, I've also crocheted a delicate beaded snood (decorative hair net) in yellow thread with red, blue, and gold glass beads to wear with it–a perfect compliment to the piece.  Now I'll have to find some time this winter to circle back to the gown project!  Alas, I suspect that I never shall manage to transform all of my many ideas into form, but I keep jotting them down in my journal with sketches, hoping not to loose the inspiration in my busy schedule.   I am grateful to have learned these new skills this year, and to have had the time to create this lovely piece that speaks to my heart.
As a creative, I've noted that sometimes my best pieces start with "I wonder if I could…"
Lean into the adventure when you hear that small voice calling your creative skills to the next level.