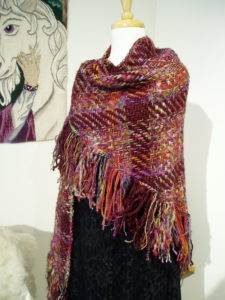 Tapestry weaving works tightly back and forth in short rows–each strand staying within its own color area.  This has its own rhythm and joy as the design slowly builds and takes form, but sometimes I just yearn for large strokes and soft textures.  This means it's time to bring out the triangle shawl loom.  Yes…I have 15 looms.  But each one is for a different finished product, so each has its place.  Read on to see how this one works.
I was first introduced to this method of weaving while giving a demonstration in Navajo tapestry technique at a local fair.  An alpaca owner had brought one, and she let me make a small shawl on it.  How fun!  Unlike other types of looms, there is no warping–you build both the warp and the weft as you go.  Instead of rollers or beams or other tie-on methods, nail or screw heads along the face of the triangle frame act as the tension support for each thread.
Once the weaving is complete, you cut and add the fringe, crochet around the perimeter, and then gently peel the piece off the loom.  There is no loom waste, and now the completed, draping shawl is in your arms.  It was like magic!
But this is not the type of loom you can hop to a local store to find (at least not in Northern Wisconsin!).  The lady was kind enough to let me borrow her loom patterns, and John Sorensen (a local carpenter) built an adjustable loom for me, which stands on its own collapsible easel.  While it can take up quite a footprint on its own, nestled amongst my other looms in the studio, it fits quite nicely.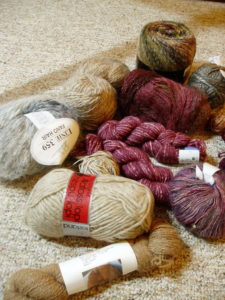 Working with this type of shawl loom lets me utilize loftier, furry, kinky, or otherwise quirky yarns that would not work well in tapestry or punch needle rug hooking.  Blending shades and textures is one of the most exciting part about prepping for making a shawl.  I want it to be warm enough for sofa cuddles yet light enough to feel a little delicate and maintain a nice drape.  I also want the piece to feel like you could use it to dress up or dress down an outfit–pulling in enough color to make it wearable with many attires yet not too busy.
Some of the yarns selected are from our sheep, but many are also found on travels, where a chanced-upon yarn shop is a must-stop for me.  Never feel guilty about having a stash of yarn.  Can you imagine a chef without a cadre of ingredients at hand and a fully-stocked spice shelf?  The perk for a fiber artist is that my ingredients never spoil or outdate!  And you never know when that skein of something interesting discovered five years ago makes the perfect pairing with what you found yesterday.
The other element that I love to bring to my shawls is, instead of plain weaving, to work the warp and weft as a twill.  Twill means that instead of weaving over-one-under-one, the finished textile is over-two-under-two.  The twos are then offset so that the next row splits the previous pair.  In a stole, this would create a sense of drift to either the left or the right.  But for this type of weaving, which works its way to the middle, I want to create a sense of cascading towards the center.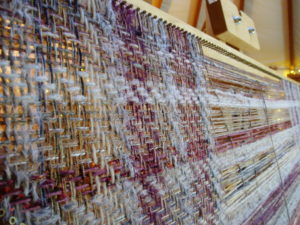 This takes some planning when establishing the pattern, or it can head upwards instead of downwards!
Here you can see the transformation of the pile of yarn shown above as it is being woven on the triangular shawl loom.  I start in the upper left-hand corner, then draw across to the right.  With each row, it works down and towards the center another step.  There are no foot pedals or leashes–all is worked with the fingers by catching up the individual threads and drawing the new row through.  You actually make two rows at once!  In this picture, I've pulled the yarn through on the left side of the piece, I'll then draw it across the bottom, and it will come up on the right side of the piece.  Each row is gently pushed into place with the fingers–no combs.  In fact, the only hand tool used is a crochet hook for adding the fringe and finishing the edge.
This is a standing loom, and not unlike working on a canvass, the movements are back and forth, up and down.  Here is a full image of the loom with a piece is progress.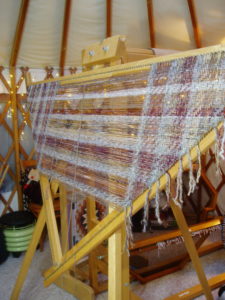 Time to head back to the studio to finish this shawl.  You can purchase some of the finished pieces at my gallery space at Farmstead Creamery & Cafe, or via my Etsy shop.  Let's bring back the beautiful, elegant shawl!