[I wrote this article for my weekly "Down on the Farm" column, but it's much too fun not to share here as well!]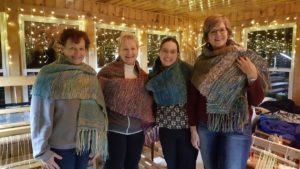 "What do you see yourself doing 10 years from now?"
It was my interview for Vermont College's progressive, low-residency undergraduate program.  I thought for a moment, then answered, "I want to have my own weaving school."
Now I was sharing that story in Farmstead Creamery's Fiber Loft to my three students, eager to being weaving.  "That was 15 years ago, but here you are, my first class!"
How often are we urged to multi-task or cram just one more activity or obligation into the already overflowing schedule.  What about spending a whole day—or, as in this case, the entire weekend—focused just on one thing?  And what if that one thing was something you always loved and wanted to try?
That was the vision behind the learning intensive "Floor Loom Essentials" that kicked off my Erindale Tapestry Studio courses.  Each student was going to learn how to calculate and measure her warp (vertical threads), load shuttles with her weft (horizontal threads), warp up her own loom with a simple twill, and weave a beautiful shawl to take home.
The process involved many intricate steps, calculations, accuracy, and a good dose of fun.  "If nothing else," I offered as we labored over leashes and reeds, "You'll never wonder why handwovens cost what they do!"  And yet, not that long ago, all cloth was made this way—the clink of the heddles, the whoosh of the shuttle, the tap of the reed, feet working the treadles below.  Re-learning the old ways of making things by hand reconnects us with our ancestors and offers a rewarding, Zen-like experience as well.
Each loom in the farmhouse porch studio had its own character, quirks, and backstory.  There was a small Harrisville Designs workshop loom acquired from my middle school Montessori art teacher, a sturdy Macomber that used to belong to the mother of a fellow musician friend, and what I called "the grumpy old man" loom that had been brought over with an immigrant from the Netherlands soon after WWII.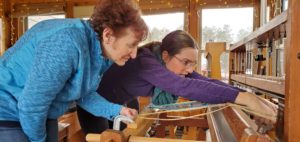 Christine (the widow of its previous owner and an accomplished fiber artist) was visiting two summers ago with some lady friends, when she learned that I had this dream of starting my own weaving school.  Immediately, she perked up, saying, "I have some looms I've been trying to sell.  But since you want to teach, I will just give them to you."
She arrived at Fiber Fest later that same summer with a truckload of loom parts, all in much need of a good cleaning and a lot of restorative love.  Part of what took 15 years to launch the school was not only going all the way through graduate school myself but also collecting and creating the infrastructure necessary to support having multiple students!
Nancy, who lives in the Washburn area, was acquiring the loom that had belonged to her aunt, a fashion designer.  We met at our twice-monthly farmer market at NorthLakes Clinic, where somehow it came up that she was interested in learning to weave.  I decided to take the leap and announce that I was preparing to teach weaving.  A spark began.  Needle felting groupies Sue and Barb soon joined the roster, and I officially had my first class of students.  I thought I was walking 10 feet off the ground!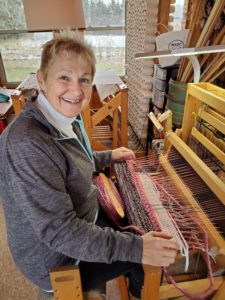 My own weaving adventures had started at age 13, when as a homeschooler my mother noticed an art class being offered by the Madison Area Technical College's enrichment program in Navajo tapestry weaving.  The only youngster amidst a host of grandmas, my enrollment launched a 5 ½ year mentorship with Fran Potter, a master weaver who had studied directly with Navajo women.  Her belief was that if people could experience what went into this type of handweaving, it would garner greater respect for its tradition and artists.
This would springboard my additional weaving pursuits, including Flemish style tapestry, floor loom weaving, and even triangular shawl loom weaving.  After years of exploring and perfect technique and my own style, it was time to give that experience back to the fiber arts community—imbued with the lessons I'd learned from working with Fran for patience, encouragement, and showing a technique only long enough to hand it off to the student and ask her to demonstrate it for me.
"This is going to be an heirloom!" Nancy exclaimed, as she advanced her warp another round on the loom, ready to weave a new stretch of the cloth with her beautifully chosen yarns.  Each student had her own unique and delicious color palate—tones of the sea and sand, berry patch wine colors, and hues of a springtime flower garden.  It was surprising to them to see how much the fibers changed in appearance from the skein on the shelf to the wound shuttle and then to the woven textile.  A fabric was becoming beneath their hands that had never been before—and that holds a magic that is hard to describe unless you've felt it with your own creative endeavors.
Hygge (hoo-ga) was happening in the studio.  The hours both stood still and whipped by.  In the end, we all crawled on the carpeted floor, tying on fringe and trimming edges.  When at last we could all wear our finished pieces, smiles beamed bigger than I could have imagined.
"We did it, we really did it!" Barb exclaimed as we hugged.  Sue shook her head, "Wow, this was amazing, thank you!"
Can you say happy teacher?  Nothing replaces the experience of making something by hand yourself, especially when it sparks such joy.  See you down on the farm sometime.